Understanding of what the funeral should accomplish and dedication to the principle that everything possible will be done to help is our goal. Our funeral homes take pride in offering you personal attention and distinctive service. You can count on us to be a source of caring and comfort during a difficult time.
Wilson-Schramm-Spaulding Funeral Home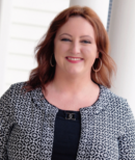 Kara Kucner
Funeral Director/ Embalmer
Kara@WilsonSchrammSpaulding.com
Kara Kucner has been a Licensed Funeral Director for over 15 years and has specialized in Pre-Planning and Aftercare. In the summer of 2018 Kara joined the staff of Wilson-Schramm-Spaulding Funeral Home as a full time funeral director/ embalmer.